If you're looking for ways to fill a lockdown half term with science, why not make science pancakes as part of our 7 Days of Science Challenge? One pancake-flipping Whizz Pop Bang fan will win a Stay-At-Home bundle for their cooking and decorating skills!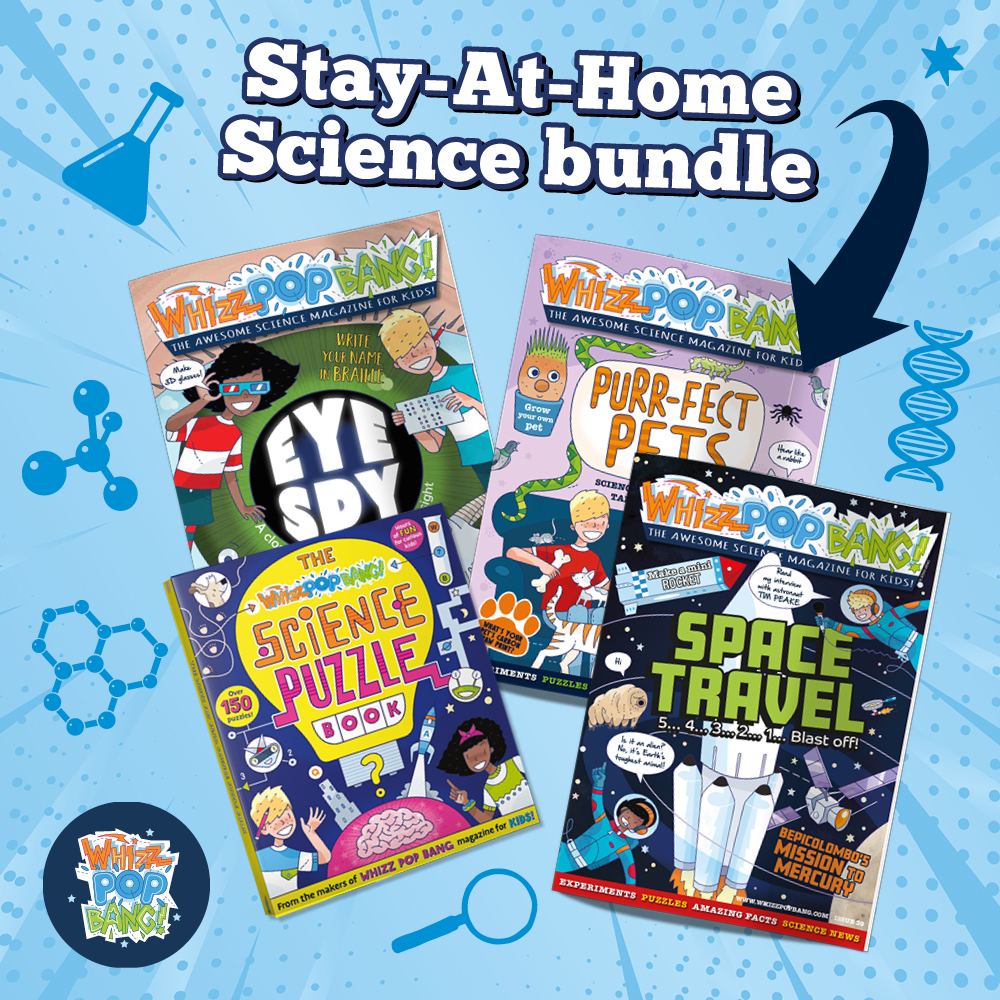 There's loads of science to try at home in this brand-new bundle of three activity-packed magazines, together with the brain-bending Whizz Pop Bang Science Puzzle Book – it's the ideal bundle to fill a home-based half term with awesome science fun!
The bundle contains:
• The Whizz Pop Bang Science Puzzle Book, packed with over 150 puzzles, all with a science twist!
• Whizz Pop Bang magazine, Issue 33: Purr-fect Pets – grow your own grass pet and create a doggy draught excluder
• Whizz Pop Bang magazine, Issue 39: Space Travel – experiment with an air-powered rocket and a rocket that's fuelled by a chemical reaction
• Whizz Pop Bang magazine, Issue 46: Eye Spy – make 3d glasses and create a beautiful sun catcher
To be in with a chance of winning this brilliant prize, simply make or decorate some pancakes, taking some inspiration from a science topic. Find a recipe and loads of ideas here – or let your imagination run wild!
Pancake batter isn't the easiest medium to work with, especially if you're making thin pancakes that are often associated with Shrove Tuesday in the UK. We're on the lookout for creative ideas and stacks of enthusiasm rather than anything that belongs in a gallery. After all, they're not going to hang around for long, are they? Yum!
Living in a lockdown often means that we need to think creatively, so if you haven't stocked up on pancake ingredients then there's no need to go to the shops – decorate a biscuit, slice of toast or even a bowl of porridge instead!
Email entries to win@whizzpopbang.com with the subject 'Science pancakes' by midnight on 23rd February 2021. One winner will receive a Stay-At-Home Science bundle. Full terms and conditions can be found here. Happy flipping!