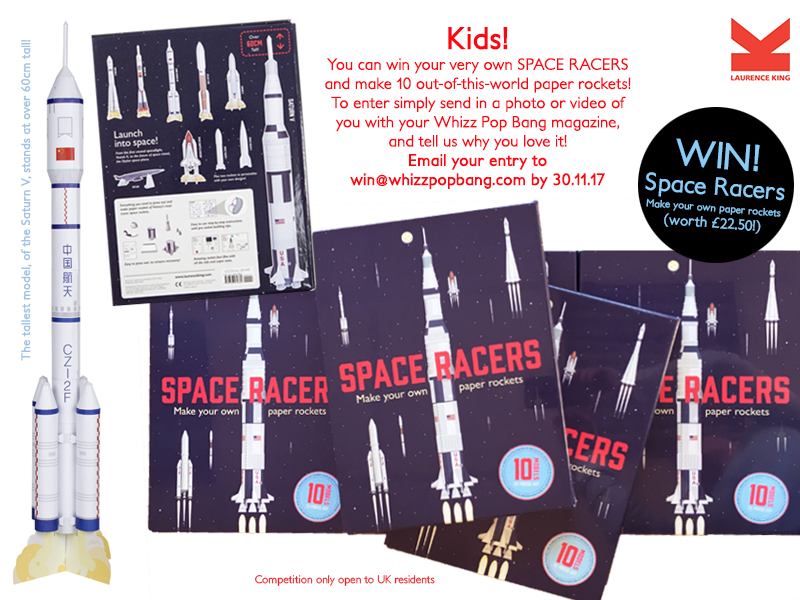 Whether you're age eight or 108 there's something really exhilarating about making paper rockets and imagining you can really zoom off into space! Which is why we're over-the-moon happy to announce we have FIVE Space Racer kits to give away for our November online competition, to link in with the November issue of Whizz Pop Bang science magazine Planetary Adventures.
To enter this competition we'd like to know what you love most about Whizz Pop Bang magazine. Send in a photo or video of you with your favourite issue, telling us which pages you read first, or which experiment is the best or who you do your experiments with in your family and why it's so much fun. Email your entry to win@whizzpopbang.com with SPACE RACERS in the subject box by 12pm GMT on 30th November 2017.
Space Racers contains everything you need to press out and make your own paper rocket models. From the rocket that made the first manned space flight, Vostok K, to the future of space travel, the Skylon space plane. Use the easy to use, step-by-step instructions to build eight historically accurate rockets and two imaginary rockets, which are left blank for your own designs. A separate booklet introduces you to the exhilarating world of rocket science and space exploration, and includes fun and detailed fact files for each rocket. Published By Laurence King, priced £22.50.
Space Racers Make Your Own Paper Rockets is written by the hugely talented Whizz Pop Bang science writer, Isabel Thomas.