Whizz Pop Bang introduced eating insects (entomophagy) to the Cheltenham Science Festival; inviting kids and their families to try 'foods of the future'. These are just some of the kids who tried pasta and flapjacks made with crickets, we think the smiles say it all!
In issue 7 of Whizz Pop Bang we introduced our readers to the concept of eating grubs as a sustainable source of protein. Now as a forward-thinking kids science magazine we're all about looking into the future 🙂 So we got in touch with a company in Thailand, called Bugsolutely, who make pasta using 20% cricket flour mixed with 80% wheat flour, and asked them if they'd send us some boxes to try. Three weeks later a large box arrived full of pasta ready for our trials. We sent out a newsletter inviting Whizz Pop Bang subscribers to take part, and within minutes we were inundated with families wanting to taste cricket pasta! So we set up individual trials, and took the pasta to Cheltenham Science Festival to find out firsthand what the kids thought.
And the results?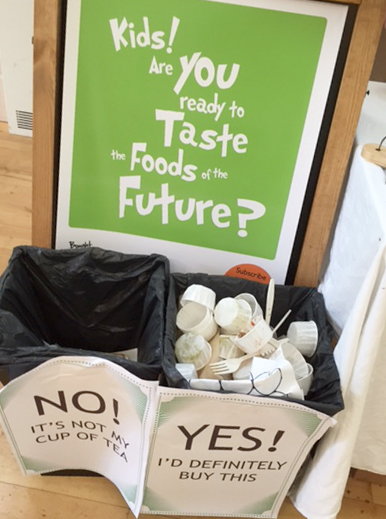 In the style of Innocence smoothies, we asked people to vote with their rubbish. So we had a 'YES! I'd definitely buy this' bin, and a 'NO! It's not my cup of tea' bin. The results speak for themselves, it's a resounding YES please to buying foods made with insects in the UK!
The double page spread in February's issue of our magazine, introducing the idea of eating grubs: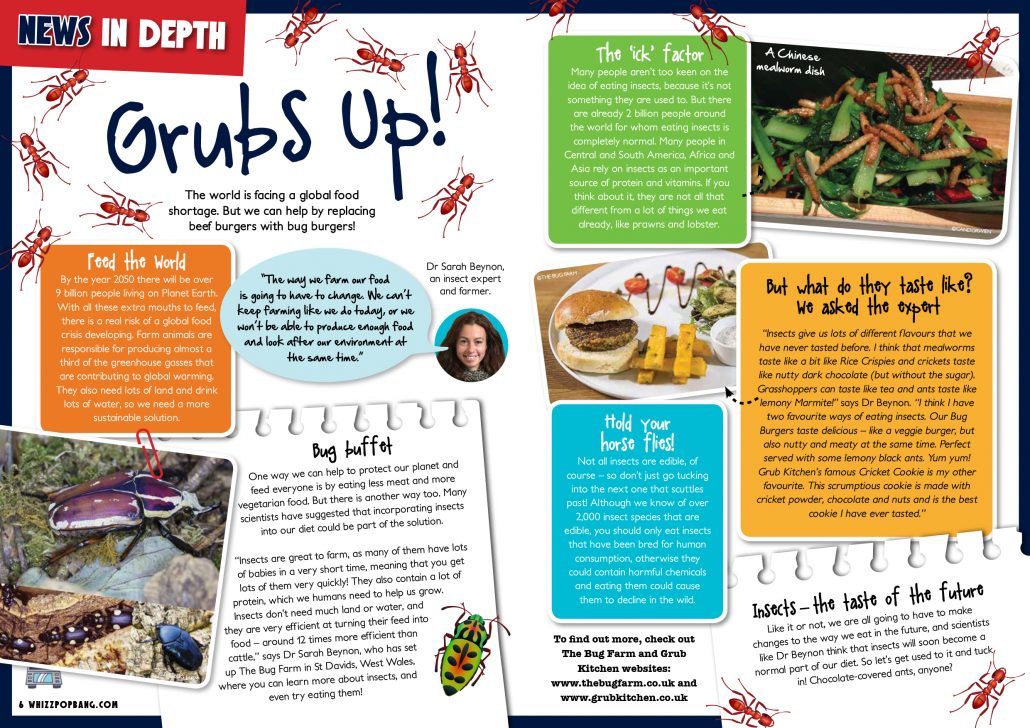 Feed the World – By the year 2050 there will be over 9 billion people living on Planet Earth. With all these extra mouths to feed, there is a real risk of a global food crisis developing. Farm animals are responsible for producing almost a third of the greenhouse gasses that are contributing to global warming. They also need lots of land and drink lots of water, so we need a more sustainable solution.
"The way we farm our food is going to have to change. We can't keep farming like we do today, or we won't be able to produce enough food and look after our environment at the same time." Dr Sarah Beynon, an insect expert and farmer.
Insects – the taste of the future Like it or not, we are all going to have to make changes to the way we eat in the future, and scientists like Dr Beynon think that insects will soon become a normal part of our diet.