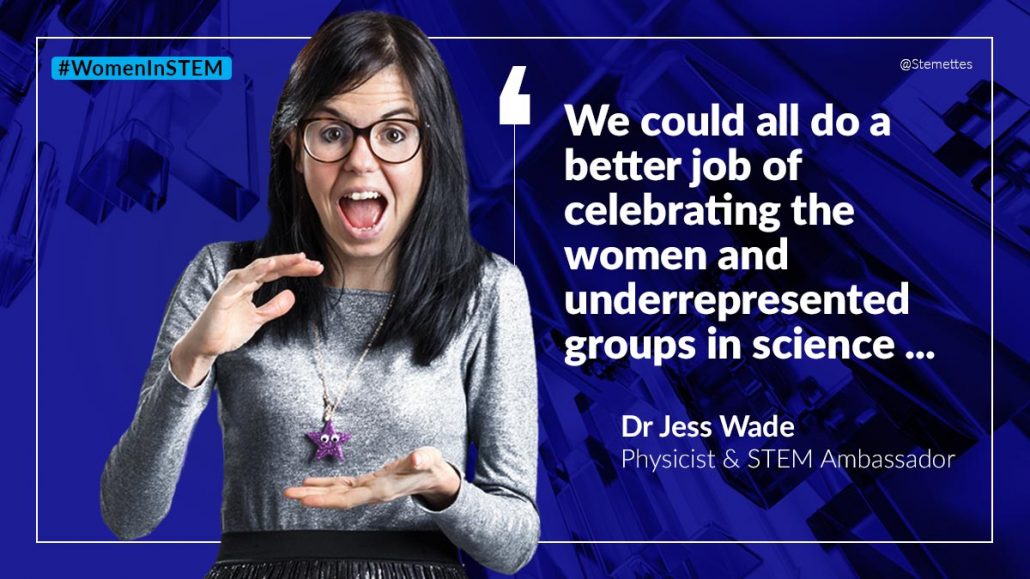 Congratulations to award winning physicist and #STEM ambassador Dr. Jess Wade has been awarded a medal of the Order of the British Empire for services to gender diversity in science.
Dr. Jess Wade is a physicist and an incredible advocate for women in science and engineering. During 2018, she's embarked upon a challenge: to write one Wikipedia page per day about an "awesome underrepresented group working in science and engineering."
Dr Wade researches polymer-based LEDs in the Blackett Lab at Imperial College London. As part of her outreach work she has led public engagement initiatives to promote women in STEM, including schools outreach work in physics and coordinating international women in physics academic conferences. She's leading the way as an inspirational woman in science helping to break down barriers, and give girls the confidence to see themselves as scientists.
Read an interview with Jess about her Wikipedia page per day here.
Jess is also a proud STEMette and STEM ambassador, helping to promote fellow STEMettes such as author Angela Saini who wrote Inferior and Superior.
Why do I care so much about getting a copy of #Inferior into all schools? Because I don't want to just tell girls they can do anything. I want them to read it, be empowered, and join our fight for equality. #thisgirlcan https://t.co/JB3Uc6JuU8 pic.twitter.com/23F9UJOp1Q

— Dr Jess Wade 👩🏻‍🔬 (@jesswade) 12 August 2018
Follow Jess on Twitter to and join the world of science girl power!
Dr Jess Wade is a Whizz Pop Bang science adviser; a member of our behind-the-scenes team who help to ensure that our content is up-to-date and accurate.
In every issue of Whizz Pop Bang magazine we have a mix of female and male scientists to inspire girls and boys, and particularly showcase women in STEM roles. Breaking down gender stereotypes is an important part of Whizz Pop Bang magazine as we strive for a future of equality. Find out more here.
We also feature famous historical scientists, focusing just as much on the female scientists as the male scientists. Find out which historical scientists we've featured so far in Whizz Pop Bang, and if you're a teacher looking for science and reading resources we've got reading comprehensions ready to download and go with our schools subscriptions!