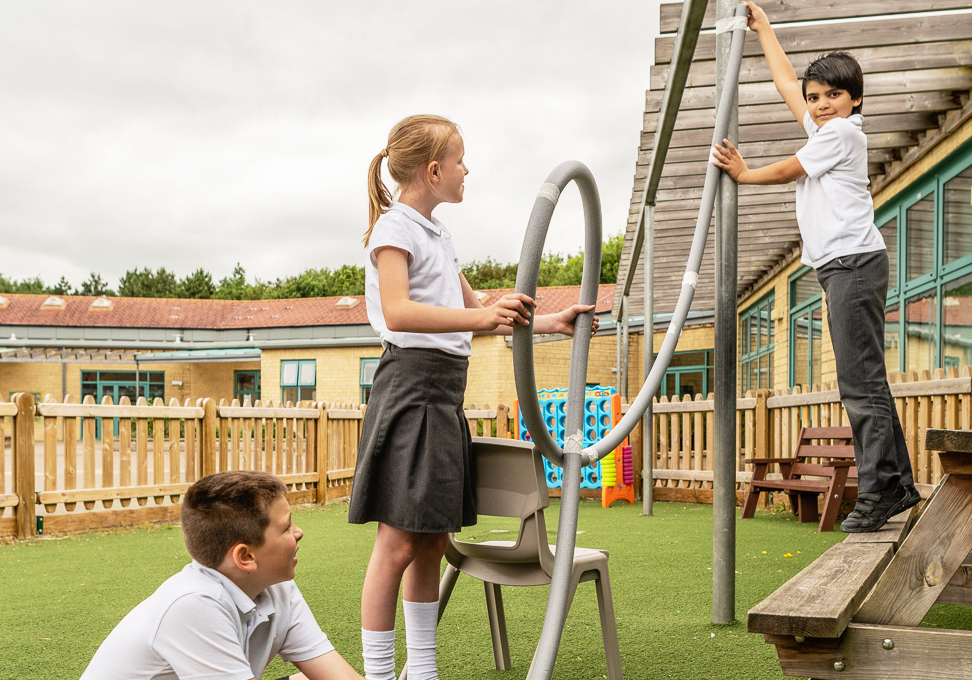 The new Ofsted framework for primary schools has shifted the focus away from data and put more emphasis on a broad, engaging curriculum. This means that Ofsted inspectors are now shining more of a spotlight on science. So, what will Ofsted inspectors want to know when they take a 'deep dive' into science at your primary school?
---
Would you like help to improve primary science in your school?
---
A few primary science coordinators have shared their experiences of the Ofsted inspections under the new framework, and we have to say, the inspections seem very thorough! To help take away the fear and uncertainty for science coordinators, we've put together this short summary to show you what to expect in an Ofsted deep dive into science, and we also share our top tips of what you can put in your coordinator file.
1.Curriculum coverage
Make sure you know what each year group is teaching and how these topics progress across the years. It's really important you understand what is covered in EYFS; if this isn't your area of expertise ask your colleagues in FS2. The National Curriculum states clearly what each year group should cover. If this is followed, you will ensure there is progression across your school. Although it is tempting to buy into a scheme, this can be very expensive; it's perfectly possible to teach science well without one. Here is a link to a useful progression on enquiry skills.
2. Staff training and support for new staff
Keep a list of all CPD that members of staff have attended. Make sure it also includes any support that you have given them, even the times when a member of staff has asked you for advice and you have pointed them in the direction of a useful website or resource. As part of the deep dive into science, Ofsted inspectors will be scrutinising the way in which teachers explain science to their pupils. It's therefore really important to support the less confident members of staff. Ask the staff to tell you if there are any areas that they are required to teach in science that they are not sure about. This will help you to prioritise their CPD. Don't forget to keep a record of any staff meeting you have run and a copy of handouts you have given to teachers.
3. Scientific vocabulary
It is important that pupils use the correct scientific terminology, and Ofsted will be looking for this in lessons and in pupils' books. Encourage staff to have a science vocabulary wall in their classroom, or word mats for the pupils to have in their books at the start of each topic. Pupils asking and answering questions is a key part of their learning. Here is a useful document shared by a teacher with the science curriculum mapped through 'big questions'.
4. Book scrutiny
When you look at the books, make sure the whole school is recording learning objectives at the beginning of each piece of work and that the pupil activity relates to it. Make sure there is clear progression and all the content links to your overview.
5. Curriculum links
Make a list of all of the ways that your school teaches science through other subjects such as reading, maths or history. Collect a couple of examples of lesson plans or pupils' work for evidence.
6. Resourcing and trips
Make a note of any science trips that take place and how they fit into that year's science coverage. Consider the resources needed for each topic so you can be sure that you, as the science coordinator, have made the appropriate provision.
7. Action plan
Make sure your action plan is up to date. If there is an area that is a weakness, it's important to be honest about it. It's far better to identify the issue and state the steps you are putting into place to resolve it, rather than to ignore the problem.
8. Lesson observations
If you haven't already, make sure that you find the time to observe a science lesson with a member of SLT; ask for this to be part of your performance management. There is a chance you will be expected to observe science lessons with the Ofsted inspector. It's better to have had the opportunity to have done this with a friendly face first!
---
If you'd like to improve science at your school, Whizz Pop Bang magazine and the downloadable teaching resources can help:
Downloadable science lesson plans, PowerPoint presentations, hands-on investigations and science reading comprehensions written by primary school teachers
Linked to the National Curriculum, ensuring correct coverage.
All resources are year group specific, ensuring progression between the years
Cross-curricular links to other subjects such as English, maths, history, geography, design and technology and PSHE.
Prices from as little as £190 per year for a copy of Whizz Pop Bang magazine through the post each month and whole-school access to our ever-growing library of downloadable teaching resources, with unlimited teacher logins. Click here to find out more.
---