Are you looking for some help and ideas for teaching gestation periods in year 5? Here is how to use our downloadable teaching resources about babies.
Teaching about the gestation periods of different mammals in year 5 can be quite a task as it is time-consuming to find out all the correct information. We have taken that headache away by creating a lesson pack which already has all the reliable information presented in an engaging format; our animal antics spreads.
We have made sure that each spread contains the weight of the mother, the gestation period, the average weight of the babies, how many they have and their life span. This gives pupils plenty of information to use to create graphs and pattern-seek.
This lesson pack would make a great day of lessons as it includes English, Maths and Science. Pupils need to read, comprehend and pull out the relevant facts and figures. Then they should put that information into tables and graphs. Finally, they need to look for patterns within the data, looking for casual relationships. What a great day of cross-curricular science! This lesson pack includes everything you need, including an information sheet for teachers clarifying the data.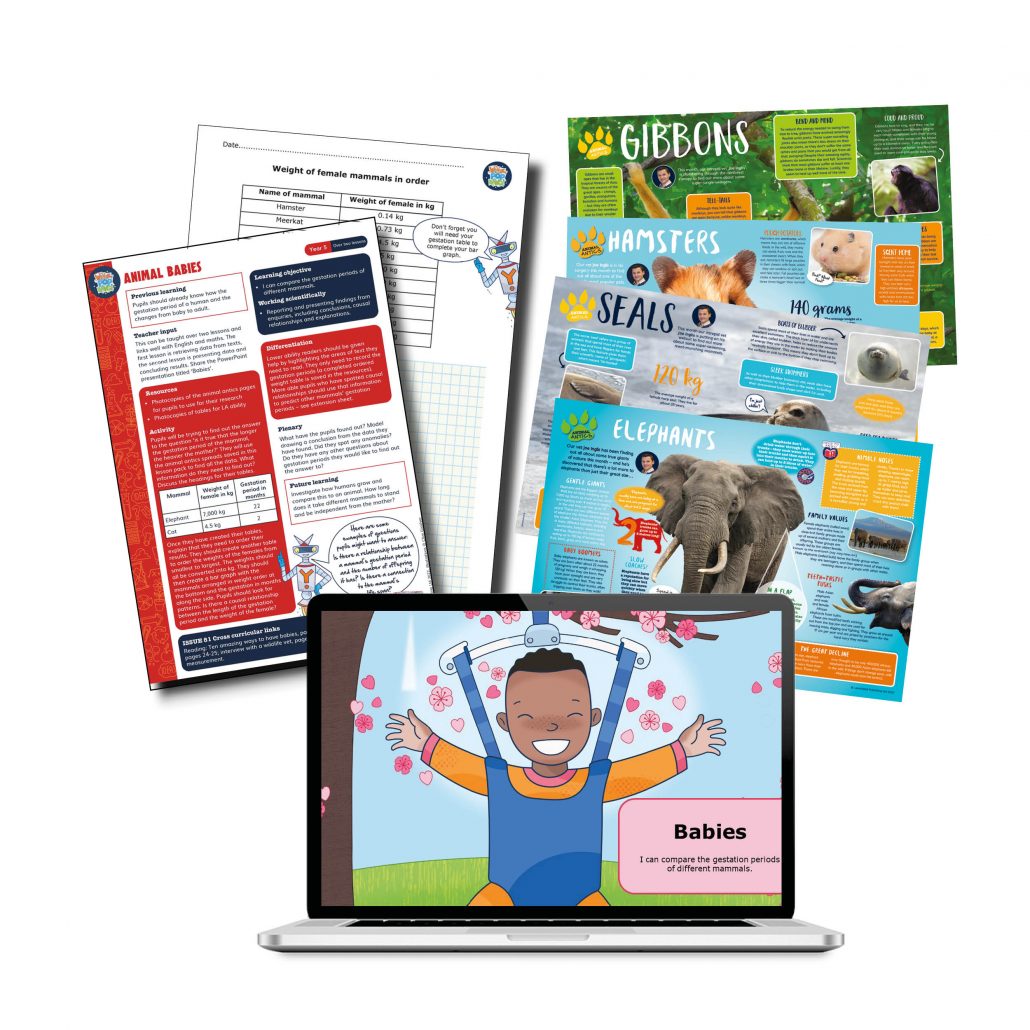 More science reading links…
From our Bouncing Babies issue, we have three more reading comprehensions that link to the topic and will spark your pupils' curiosity.
Whizz Pop Bang magazine and teaching resources are brilliant ways to enhance your school's science teaching:
We provide downloadable science lesson plans, PowerPoint presentations, hands-on investigations and science reading comprehensions written by primary school teachers.
Whizz Pop Bang teaching resources link to the National Curriculum, ensuring correct coverage.
All of our resources are year group specific, ensuring progression between the years.
We make cross-curricular links to other subjects, such as English, Maths, History, Geography, Art, Design and Technology and PSHE.
Prices from as little as £197.99 per year for a copy of Whizz Pop Bang magazine through the post each month and whole-school access to our ever-growing library of downloadable teaching resources, with unlimited teacher logins.
We've also launched a new individual membership option so teachers and home educators can access all of our amazing downloadable resources for just £20 for the whole year. 
"Whizz Pop Bang has developed a refreshing look at Science and its resources bring this subject to life." Year 5 primary school teacher