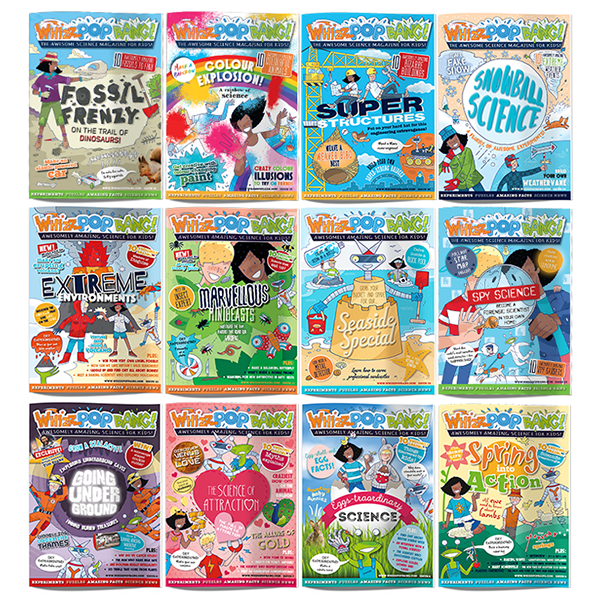 ROLE: EDITORIAL ASSISTANT
Whizz Pop Bang is growing, in every direction! Kids and their families are loving our magazine and are telling their friends, families and teachers all about what an awesome job we're doing inspiring kids in science. We're also moving out of Jenny's house and into a proper office which is very exciting! So we need more science-loving experts to join our little team. Are you a STEM ambassador? Have you got what it takes to help us to be the best children's science magazine across the land???
We're looking for an editorial assistant, someone who has experience and a passion for all things science to become part of our close-knit team. This role would be ideally suited to someone with a background or qualification in science communication.
This is a sought-after position for a talented and capable individual who would relish the opportunity to inspire children in science. The position offers the opportunity to work from our friendly Cirencester office, whilst also having the flexibility to work from home on occasions. Working hours can fit around school times if necessary, and will be based on three days a week.
Role responsibilities include
Editing contributors' copy
Proofreading of final PDFs
Writing and/or checking of puzzles
Possible writing of content – depending on skill set
Commissioning and liaising with writers, designers and illustrators
Input into the planning of magazines
Writing and editing marketing copy, newsletters, blog posts, website copy and social media posts as required
Person specification
We're looking for someone who can inspire children and can write and edit engaging and informative editorial. Prior editorial experience is required, preferably in the children's sector, and we're ideally looking for someone with a science background.
We require someone with an excellent level of written English – first-rate knowledge of spelling, punctuation and grammar are all requirements of this job. As an educational publisher, it is vital that we maintain an extremely high standard of spelling and grammar.
There is exciting potential for this role to expand and evolve to include more responsibilities as Launchpad Publishing continues to grow.
Read all the details here and share with your science-loving editorial friends and contacts: http://www.whizzpopbang.com/jobs