Do you find teaching about rocks a bit dull?! We have created a fun-filled lesson that will bring this subject to life. Pupils will learn how scientists have used rock strata to define when the K-Pg mass extinction happened.
Where would this lesson fit into my medium-term plan?
This lesson would be suitable after pupils have been taught what fossils are, as it explains how scientists know which fossils are from the dinosaur era. Our knowledge organisers are a good way to support your pupils' vocabulary and ensure progression through the school.
How is this lesson better than a worksheet?
Most children will remember an active, interesting lesson better than the information they complete on a worksheet. They will create their own rock strata sandwich complete with fossils and a K-Pg boundary using bread, sweets and biscuits!
In our downloadable lesson packs, we include everything you need to teach the lesson, apart from some inexpensive resources. Included in this lesson pack is a PowerPoint presentation that explains rock strata and the K-Pg boundary. The pack also includes a sheet of instructions for making the sandwich and a silly science quiz, where pupils will guess which animals roamed with the dinosaurs and are still living today!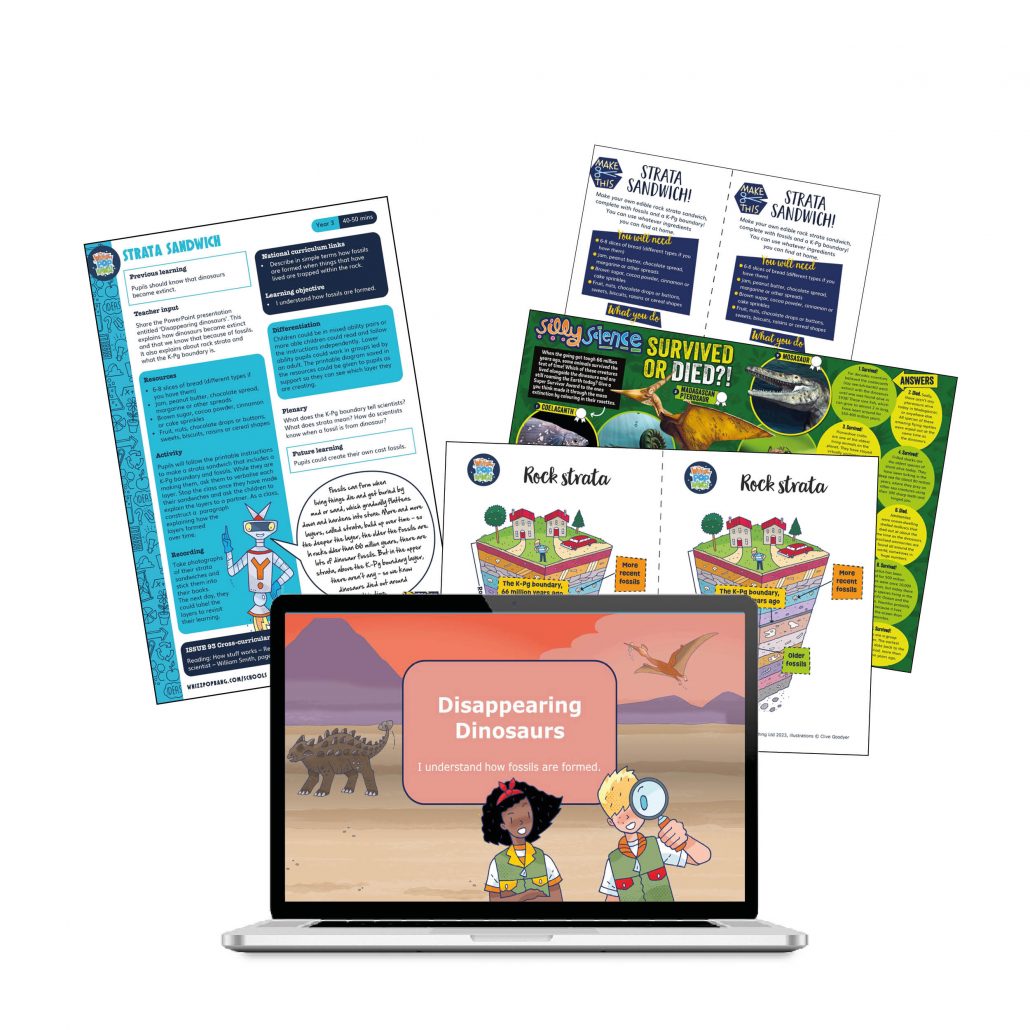 If you are not a subscriber to our school resources, you can subscribe here for your school or take out an individual teacher membership here, which will give you access to all of our downloadable resources.
How can I get more science into my school day?
An easy way to get more science content into your school day is to give your pupils quality science-related text during reading time. We have loads of downloadable reading comprehensions as part of our resources. This month we have added three more for year 3 linking to the unit of rocks.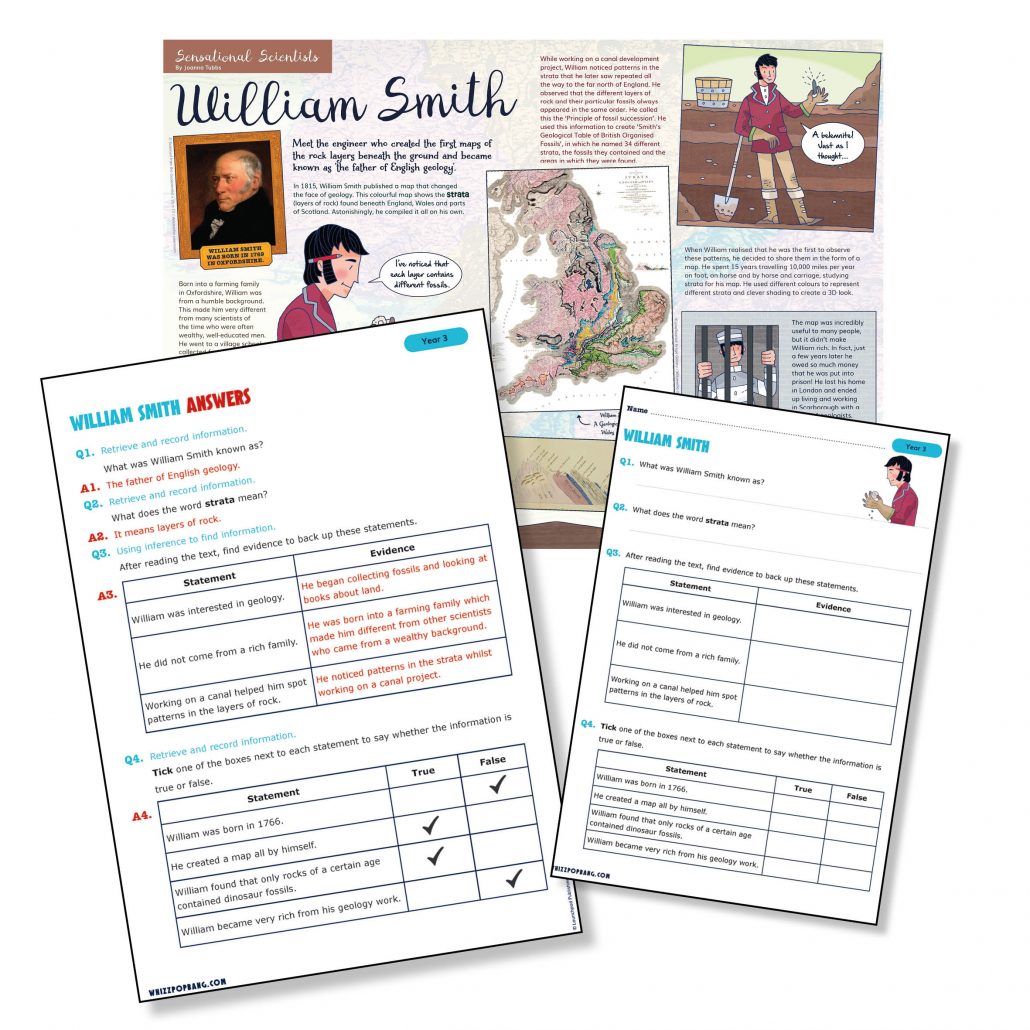 We also have a bank of spectacular science images that are perfect for promoting discussion. They feature a striking scientific image along with a couple of questions. As you click through the PowerPoint presentation, the answers to the questions will be revealed. Pupils should try to answer the questions as you go. The presentation added this month for the unit 'Rocks' is called 'Asteroid crash!'. It only takes ten minutes, so it can slot into those awkward times in the school day, such as straight after lunch while you are waiting for everyone to come in.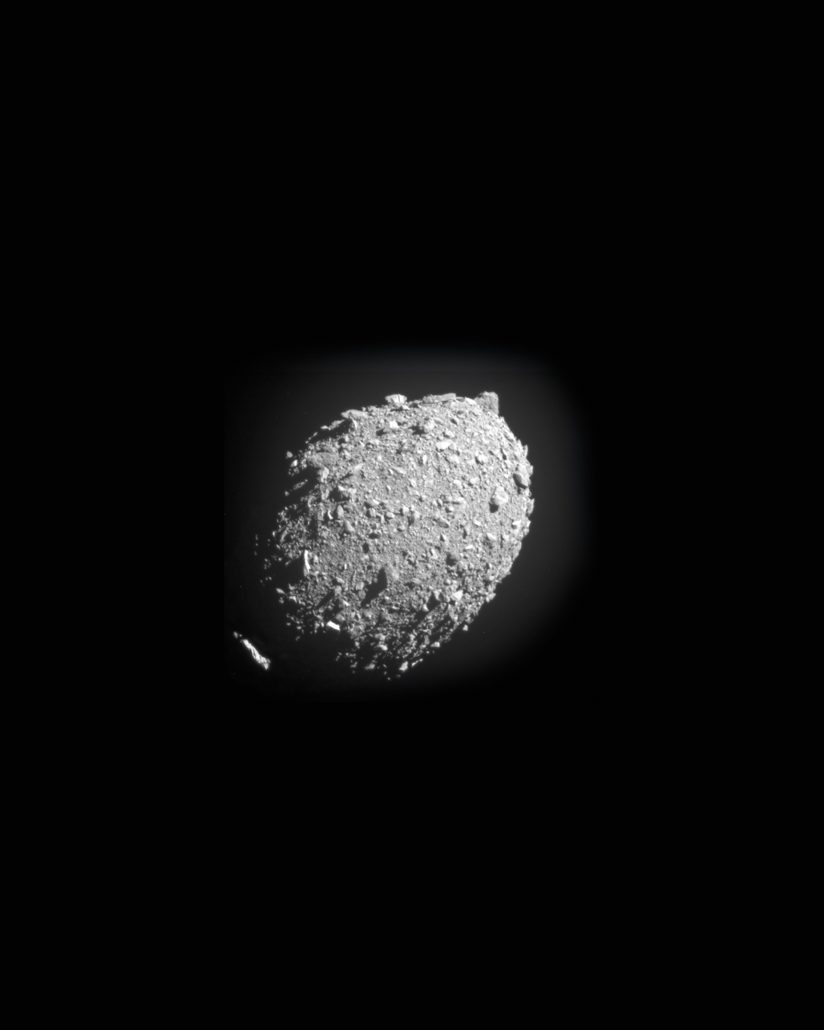 See all our discussion topics available for rocks here.
If you would like some FREE samples, sign up here for a magazine and an example lesson pack for years 2 to 6.
How much does it cost to gain access to all of the Whizz Pop Bang resources?
Prices start from as little as £197.99 per year for a copy of Whizz Pop Bang magazine through the post each month and whole-school access to our ever-growing library of downloadable teaching resources, with unlimited teacher logins.
We have an individual membership option so teachers and home educators can access all of our amazing downloadable resources for just £20 for the whole year. 
"Whizz pop Bang has developed a refreshing look at science and its resources bring this subject to life" Class teacher Caroline Burton