In Whizz Pop Bag 62: Zoom to the Moon, we asked readers to write a poem inspired by the Moon.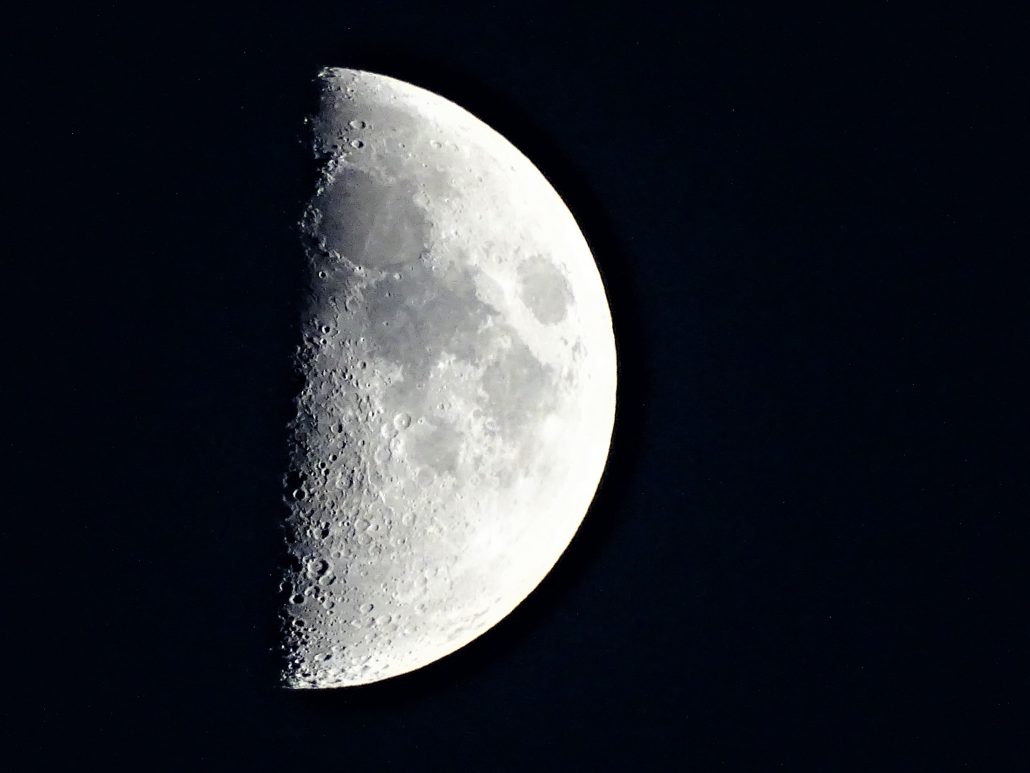 The fantastic entries were out of this world! It was so hard to pick just three winners, but we eventually settled on Amelie, aged 8, Isabella, aged 9 and Isa, aged 8. Keep scrolling to read their Moon poems.
Each prize-winning poet won a Geosafari Vega 360 telescope from Learning Resources.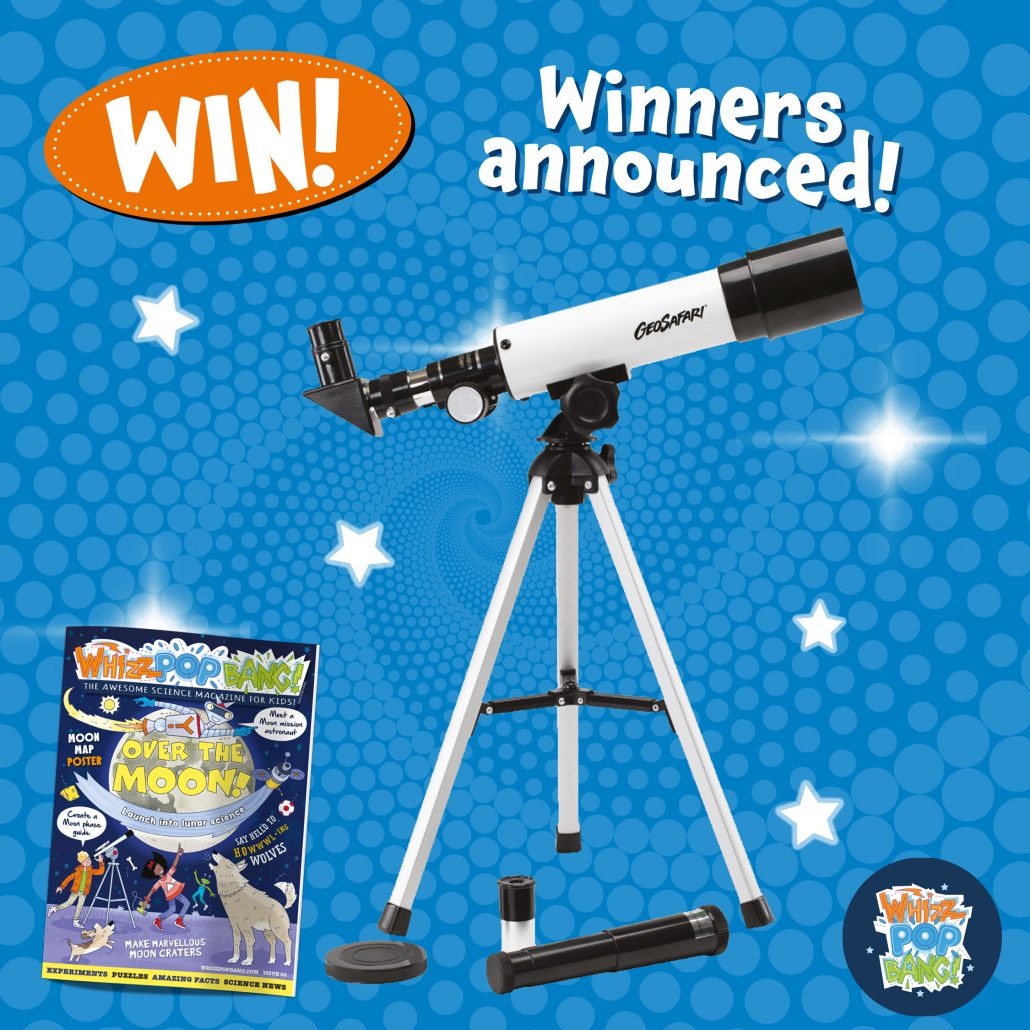 My moon by Isa aged 8
Silver sparkles, a bright light
the moon shimmers every night
If only I could go and see
I wonder what there would be?
I lay in bed in my dark room
When all of a sudden, a loud sonic boom!
I looked outside and couldn't believe my eyes
A rocket in my garden! What a surprise.
Off I went, zoom zoom zoom,
Before I knew it, I was on the moon!
Could this be real? I rubbed my eyes
Chocolate-filled craters and mountains of pies
What more could there be, I started to think
Some delicious moon nectar for me to drink
I leaned in close, to fill up my mug
When all of a sudden I felt a warm hug
Oh no I thought, who could it be?
An alien or monster? I just couldn't see!
'Wake up sleepy-head', I heard her say
I guess I'll have to finish my adventure some other day.
---
Who holds the moon? by Amelie aged 8
Neither closer nor further in the night sky
The alluring moon hangs there so high
Landscapes of craters, mountains and seas
Luminous, it's beauty bathes the trees
Have you wondered what force holds it there
For all to see, to dream and stare
Is it a wire, a rope or some string
No, there must be some invisible thing
Magnetism, is that what it could be
The reason the moon can't break free
I struggle and ponder to find the theory
Although it takes time, it's never dreary
I ponder and think, I jump up and come down
This is beyond me I say with a frown
Who knows not I, let's wait and see
Ahh, maybe it's the force of gravity
---
A Day Trip to the Moon by Isabella, aged 9
Gakk, Riley and Emmi, decided to go to the moon!
Y tried to warn them, that it could all end in doom!
Riley told them all, they should build a rocket,
Ready for this moment, he pulled a blueprint from his pocket,
Emmi tried to think, what else they needed to bring?
Gakk ran off and returned, with spades and a rubber ring!
"What on earth is that for?" Y shouted with glee,
Gakk smiled and said loudly "We are going to the sea!"
Riley laughed and shouted " There aren't any seas on the moon!"
"Yes there is!", Gakk replied "you'll see very soon!"
Emmi say to Y "We are going to need a ride"
Y says "Don't worry, I have my moon buggy outside!"
Everything was assembled, Emmi climbed onto the first stair,
Y then shouted suddenly "Wait!, we can't go anywhere"
"We haven't got any rocket fuel and no money to pay!"
Emmi said "Never mind, we can go another day!"
---
These runners up each won a wonderful Y's Wonder Club badge!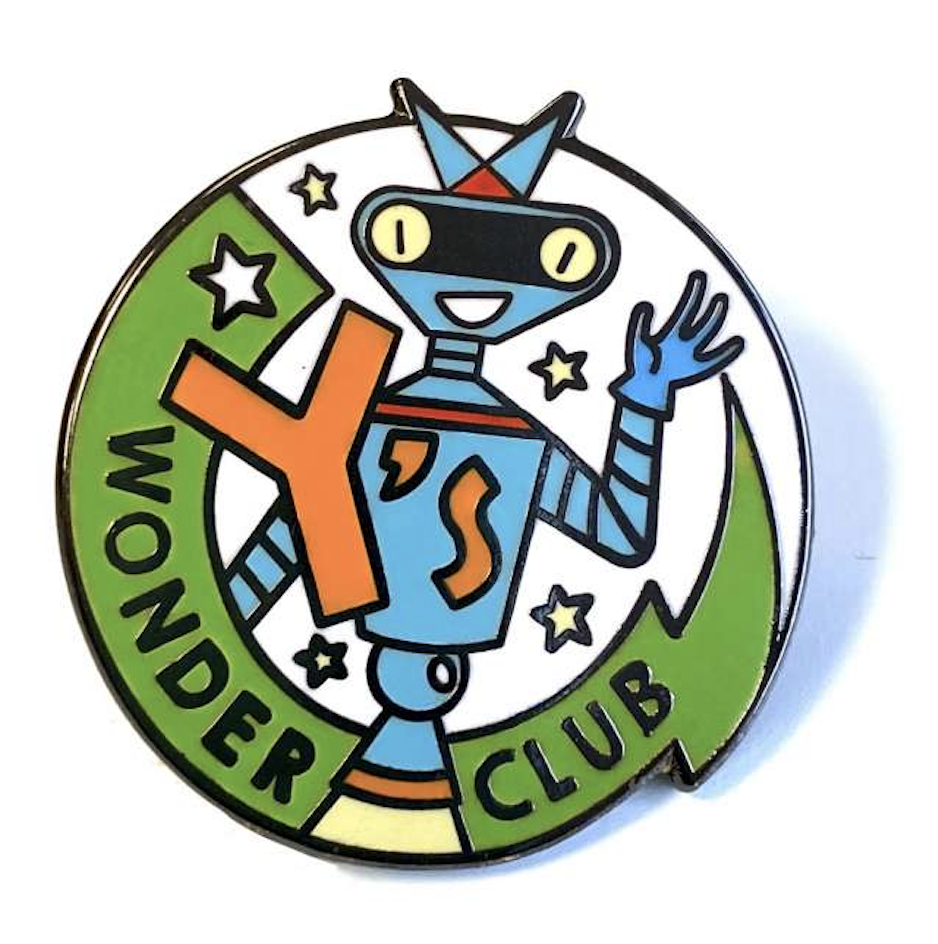 All About the Moon by Ada, aged 9.
The moon is dusty and far away.
It can be seen at night and sometimes day.
Wolves howl at the moon,
Bats swoop past the moon.
Moths navigate by the light of the moon.
Astronauts have stood on the moon.
Dropping a hammer, dropping a feather.
Testing the gravity.
Checking the weather.
The moon is bright on a dark night,
But it's just reflecting the sun's light.
With all that said, I bet it's true,
We still don't know all about the moon.
---
Team Moon by Layton, aged 6

Man has walked on the Moon,
NASA is going back really soon,
I wish I could be part of their team,
Being an Astronaut is my dream.

I love to stargaze with my mum,
When we have said goodnight to the Sun,
The stars all twinkle really bright,
But nothing is better than the Moon at night.
---
The Moon by Anna, aged 10

The moon is a silver coin tossed up high,
Glinting always in the dark black sky.
Will it land on heads or tails?
Will the moon landings succeed or fail?

The moon is a diamond, clear and bright,
Sparkling and shining all through the night.
Always staying in that same place,
In the deep black mines of mysterious space.

The moon is a guardian circling forever,
It and the Earth have always been together.
The moon watches over all that we see,
It watches you and it watches me.

The moon is a shapeshifter, changing shape and size,
Each night something different appears before our eyes.
Changing shape like cards shuffling, King, Queen, Ace,
Full, quarter, crescent, new, all the way up in space.

But whatever the moon is, it's there every night,
Silver and glowing, clear and bright.
The moon is with us until the end,
And that's why I say that the moon is my friend.
---
The Rhyming Moon by Louis, aged 6
Bright white
Night light
In space
I see a face
Made of cheese, if you believe
Wolves howl a tune
At the silvery moon.
Hey! Would you like to play on the moon tonight?
---
The Moon by Elijah, aged 11
Somewhere up in the clouds above,
Where no creature or human lies,
When the sun goes down and darkness thrives,
Look! It's the moon! Standing bright and alive.
Where the stars eyes gaze onwards,
All those miles away,
up in the great black skies,
the moon is there,
to guide our way.
Always watching onwards,
Always one step ahead,
The moon sits,
Just waiting,
Waiting for the sun to go down,
For it is then that the moon can stand,
Bright and alive.
---
Moon Poem by Nicholas, aged 11
Moon, Moon glowing bright,
you are the queen of the night.
You shine from dusk till dawn,
but are faint when we wake in the morn.
Moon, Moon glowing bright,
you are the queen of the night.
Moon, Moon glowing bright,
centrepiece of our night.
Your cycles wax and wane,
you're greater than the sun with its fiery mane.

Moon, Moon glowing bright,
centrepiece of our night.
Moon, Moon glowing bright,
you take the troubles from our night.
You shine within our darkest hour,
and give us your glory and power.
Moon, Moon glowing bright,
you take the troubles from our night.
Moon, Moon can you hear me?
You save ships tossed at sea,
you guide sailors who have lost their way
and when they're safe they say:
Moon, Moon who gives us light,
our beaming saviour of this night.
---