Teaching the unit 'light' in year 3 builds the foundations for children's understanding of Earth and Space in year 5. Pupils are aware of their own shadows from an early age, but do they understand why shadows get bigger and smaller or change shape? Here at Whizz Pop Bang, our experienced primary teacher has written a lesson pack containing a shadow investigation. Pupils will work in small groups and observe, measure, and record the length and width of a shadow.
"The children had great fun taking part in the shadows lesson. They were immersed in the activity not only developing their scientific knowledge but using mathematical skills and working co-operatively in a group" Natalie Walters – Year 3 teacher
The lesson pack contains:
A lesson plan linked to the national curriculum
A PowerPoint presentation
Instructions
Differentiated results table
Great news! You don't need any specialised equipment, apart from torches (these should be in your science cupboard already!)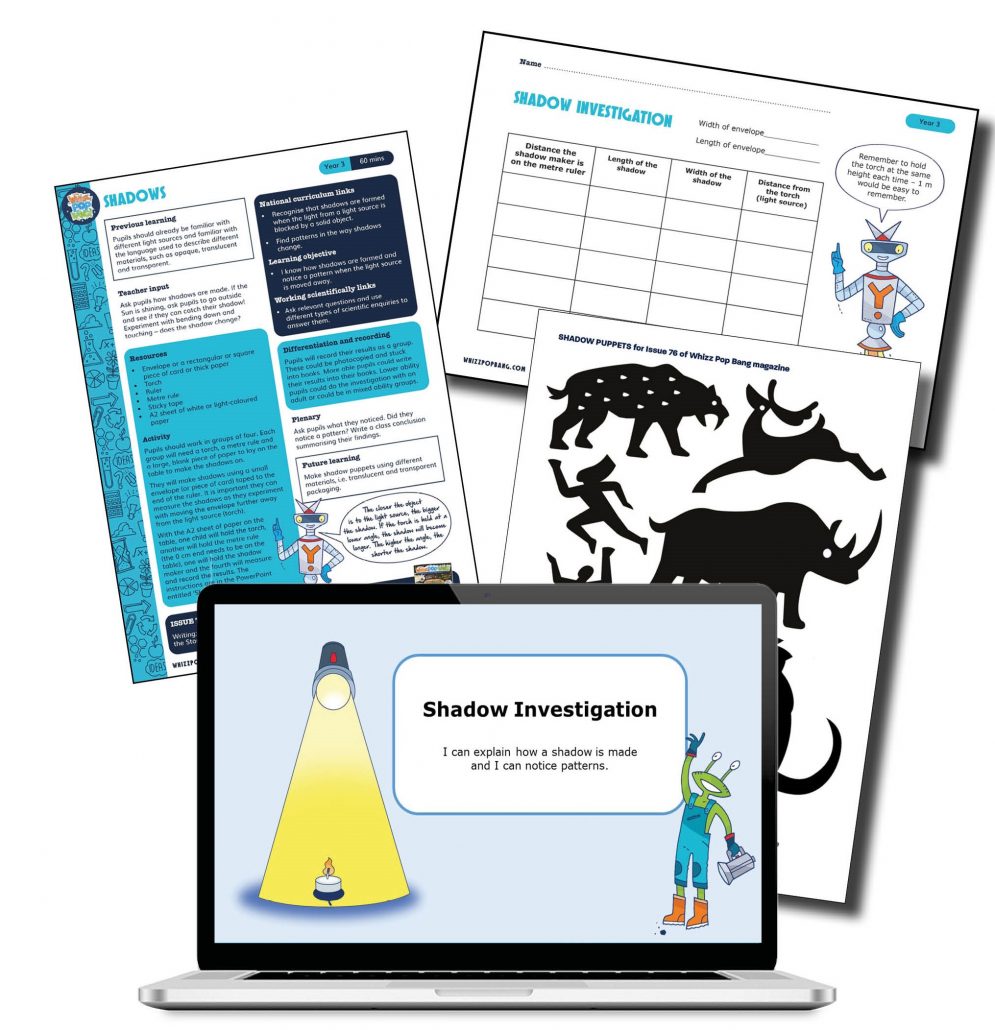 Whizz Pop Bang magazine and teaching resources are brilliant ways to enhance your school's science teaching:
We provide downloadable science lesson plans, PowerPoint presentations, hands-on investigations and science reading comprehensions written by primary school teachers.
Whizz Pop Bang teaching resources link to the National Curriculum, ensuring correct coverage.
All of our resources are year group specific, ensuring progression between the years.
We make cross-curricular links to other subjects, such as English, Maths, History, Geography, Art, Design and Technology and PSHE.
Prices from as little as £190 per year for a copy of Whizz Pop Bang magazine through the post each month and whole-school access to our ever-growing library of downloadable teaching resources, with unlimited teacher logins
We've also just launched a new individual membership option so teachers and home educators can access all of our amazing downloadable resources for just £20 for the whole year.