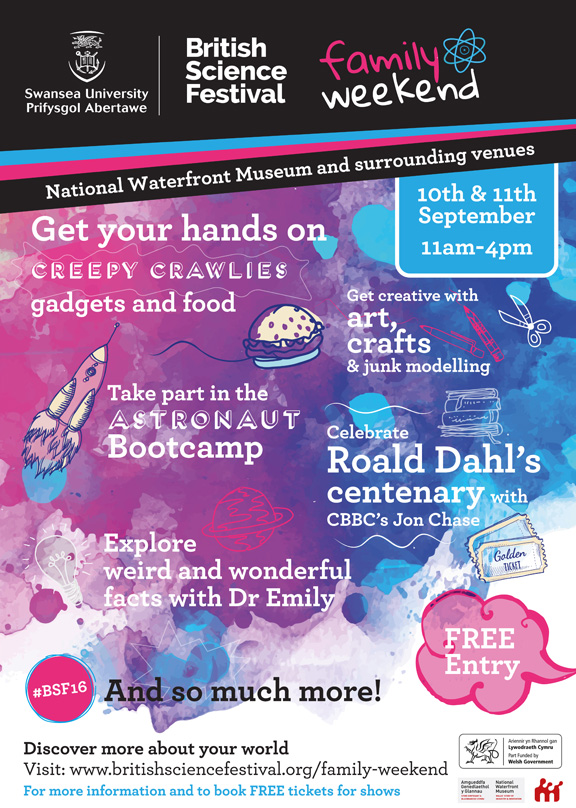 What's On in September: THE BRITISH SCIENCE FESTIVAL
Saturday 10th and Sunday 11th September, at the National Waterfront Museum, Swansea.
Now this sounds like loads of fun; 2 days of Roald Dahl-themed hands-on science fun for all the family, what could be better?! Events include an Astronaut Bootcamp, 3D Space Show, Marine explorers, Splendiferous Science Show, Sealife Safari and LOADS more! They've even got a whizzpopping Roald Dahl science show with CBBC's science communicator Jon Chase, pretty awesome huh?
All tickets are free, but booking is recommended at www.britishsciencefestival.org
Here's what they say on the website:
"We're celebrating Roald Dahl's centenary with a scientific take on his books. CBBC's Jon Chase reveals the Splendiferous Science in Dahl's tales and we've left a trail of golden tickets for you to follow and claim a prize… keep your gogglers peeled for everything from frightswiping Gremlins to scrumdiddlyumptious chocolate!
We've also teamed up with the Marina Market to talk about food. You can take a taste test, learn how to keep yourself healthy, and explore the chemistry in your kitchen. There are even some insects for you to eat… if you're brave enough!
'Marine Explorers' venture out and investigate everything that lives in the sea. Get onto Swansea University's research boat 'Noctiluca', which is moored on the quay at the Waterfront Museum. You can control an underwater robot, explore scientific survey equipment, observe underwater video footage and be captain of the ship."
Don't forget to share your photos with us on Facebook or Instagram and tell us all about the best bits! #BSF16
10th and 11th September
National Waterfront Museum and surrounding venues including Swansea Museum and the Dylan Thomas Theatre
Open 11am-4pm
FREE!
https://www.britishsciencefestival.org/family-weekend/