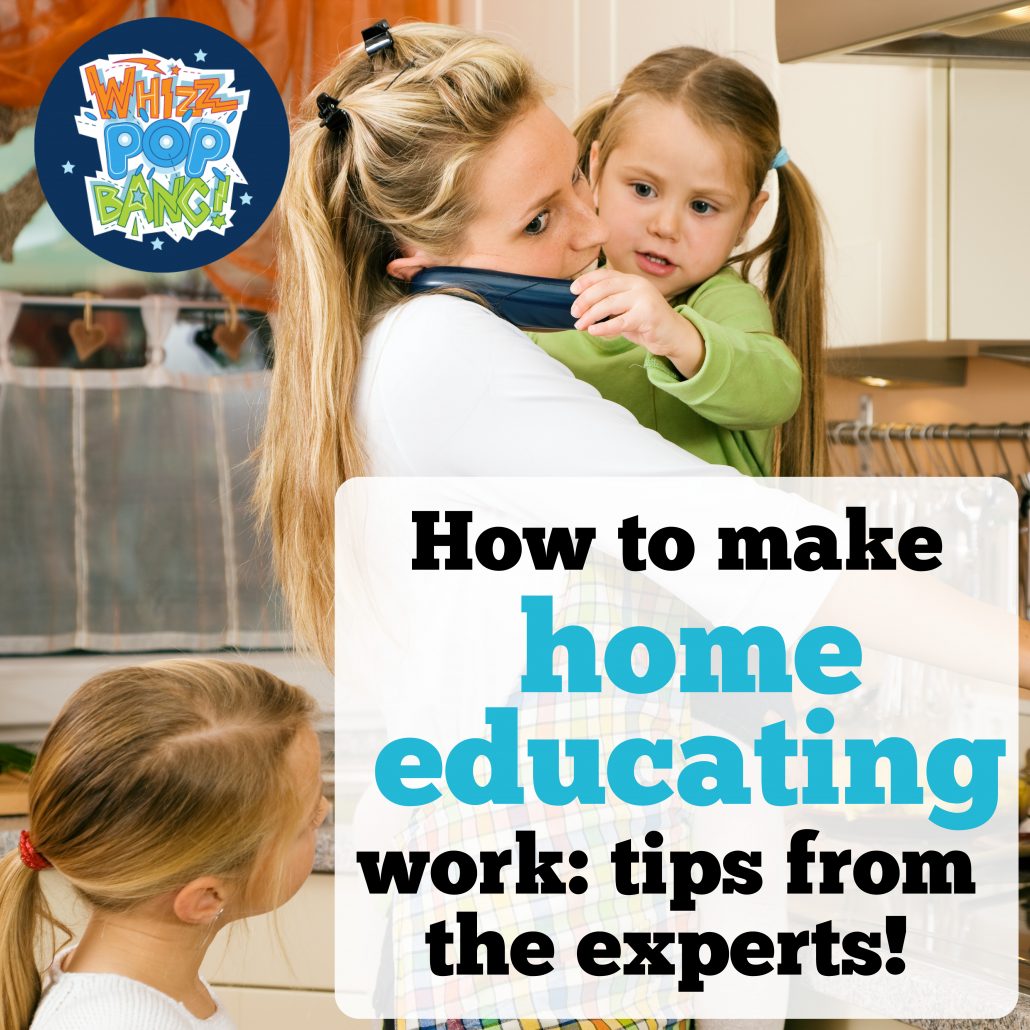 ---
Are you wondering how on earth to manage home education now that schools are closed again? We want to help you to bring science to life on your kitchen table and have made loads of resources available for you right here. They include:

🧪 Activities from Whizz Pop Bang's Awesomely Amazing Science Club These simple, fun, home science ideas using household objects were designed for school science clubs and youth groups, but work brilliantly for home school too!
🧪 Curriculum-linked science activities and reading comprehensions
These hands-on science experiments and science reading comprehensions are linked to the National Curriculum for children in years 2 to 6. They're ideal for use at home and each one includes a straightforward explanation of the science involved.
🧪 Virtual science quiz for kids
More quizzes coming soon!
🧪 Collectible science badges to earn
Your child can earn their Wildlife Watcher, Eco Hero and Super Scientist awards!
🧪 Super science-themed colouring pages and posters!
Keep reading to find out how our experts make home educating work…
---
The first attempt at home-educating was a culture shock for our editor Tammy back in March 2020. Tammy had a picture in her head of how home-schooling would be – a structured daily routine with children sitting neatly at the kitchen table, completing the work she'd set them, whilst she herself was working away on her laptop beside them. Needless to say, it didn't work out that way! It didn't help that Tammy had builders in repairing her roof that week, resulting in a ceiling collapsing! The whole family was in tears before the first morning was out.
And here we are again – schools have suddenly closed and many parents' brains are exploding at the prospect of keeping their children engaged in education while juggling their own jobs and responsibilities. While many of us have already had one stint of homeschooling, things are different this time around – schools' expectations have changed, and many of us haven't quite shaken off the lazy Christmas holiday routine yet – so, we thought we'd ask for some advice from our lovely home-educating Whizz Pop Bang readers and gather some top tips. We hope you find them useful…
1. Learn through everyday activities
Don't underestimate the amount of learning there is in just being. As you chat, children will learn from the language you use. Look at the clock and notice which hands move faster. Get busy in the kitchen – cooking is an exciting new subject when children reach secondary school but can be done from a very young age at home and includes lots of learning potential of the maths of weights, measures, volumes and ratios, and also the science of chemistry and reactions. Do the laundry and feed animals together, and discuss what you're doing. It's all useful learning.
2. You don't need to sit at the kitchen table for hours
Practically none of the school day is 1-on-1 attention. Lots of it is crowd management, such as dealing with undesirable behaviour, changing for PE, queuing to leave the classroom, going to assemblies, etc. If you manage four half hour 1-on-1 bursts, that's probably more than they do in primary school, so don't stress. You really don't need to sit them down at a desk for hours on end.
3. Let them build their own schedule
In school all children follow the whole class timetable. Take this rare opportunity to let them set one or two things they would like to achieve for themselves in their day (tidy a shelf, read something, make something). And then see how they scheduled their day to achieve it. Failing is a useful learning experience. Was it too ambitious or did it need better time management?
4. Try not asking them to do anything
Just leave interesting, educational things about and wait for your child to be inspired to want to learn more about something that interests them. Instead of setting work that you choose for them, experiment with exploring something that they find interesting that day, whether that's a ladybird they've found on the windowsill or something they saw on TV that morning, and ask them to investigate that some more. They can find information from the internet, books or magazines and create a project by drawing, clay modelling, writing, acting or however they want to present their findings.
5. Go easy on yourselves
It's going to take time to find a system that works for you and your kids. The whole family will need lots of time to adapt, so try to ease yourselves into a style that works for you all. You might find it easier to wait a few days until they get bored of having nothing to do and are feeling more receptive to learning. Whatever you do, go easy on yourselves. Avoid setting yourselves up for failure. Go with the flow and remember not to worry if you feel you haven't achieved anything that day – there's learning in just playing in the garden!
After their disastrous first morning, our editor Tammy's 8-year-old son said, "It's a bit like the first pancake that never works very well." And we think that's a lovely philosophy that can get you through almost any less-than-ideal start. Keep flipping pancakes and you'll soon be rewarded with success!
Here are some more tips for juggling home-schooling with home-working and you'll find lots of really useful home-educating resources here.
If you're looking for a more structured approach, Whizz Pop Bang's in-house teacher recommends getting some CGP books. Simply select your child's year group and perhaps start with a maths, a reading and a SPAG book.
These free websites are also worth exploring:
Primary Resources
ICT Games
BBC Bitesize
Finally, the home educating community would like to point out that self-isolating is not how they normally do things! The adults in the household aren't working full-time jobs on top of attempting to teach. They play in the park, in the woods, at the beach, have other home ed kids over, and go to all kinds of clubs and activities. Being cooped up in the house is hard for them too.
And at the end of the day, if all else fails, take heart in the proposed schedule that's currently doing the rounds on social media…