Whizz Pop Bang is the world's most awesomely amazing kids' science magazine, bursting with hands-on experiments, facts and fun, and we want to help support you when teaching your children about science!
Here is a FREE science activity for your child to grow their own pet which will help you entertain, excite and educate any primary aged child while teaching them all about living things.
Our free science experiments are downloadable and printable and are designed for children from 6 to 12, but this downloadable activity is particularly perfect for year 2, P3 (Scotland) and 6-year-olds and 7-year-olds as they tie in with the relevant National Curriculum objectives and topics.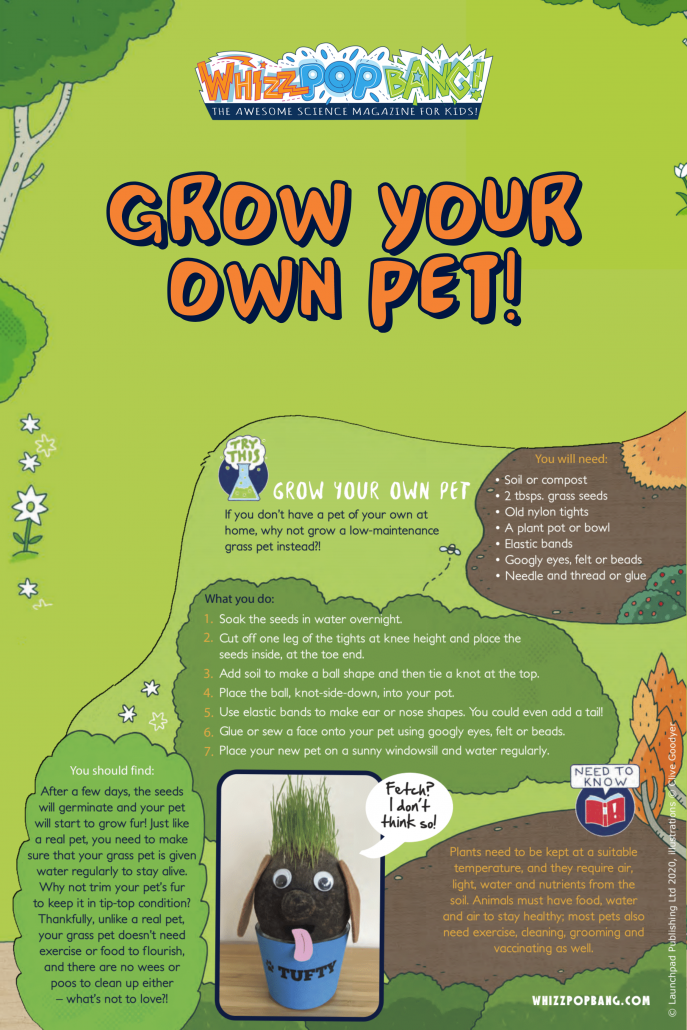 Grow your own grass pets to learn about what seeds need in order to grow.
Design and make your own grass head pets, then discover what plants need in order to grow!
You will need:
Soil or compost
2 tbsp. grass seed
Old nylon tights
Plant pot or bowl
Elastic bands
Googly eyes, felt or beads
Needle and thread or glue
Bonus activity: how to walk like a cat!
Find out what's special about how cats walk.
Topic links: Year 2 plants and P3 biodiversity and interdependence
If you have any comments or questions about our free year 2 science experiments and reading comprehensions, please leave a comment for us. Or do you have any science homeschool ideas or general home educating ideas for 6- and 7-year-olds? We'd love to hear from you!
Find loads more science activities, puzzles and games in our award-winning monthly kids science magazine, Whizz Pop Bang!

Whizz Pop Bang magazine and teaching resources are brilliant ways to enhance your school's science teaching:
We provide downloadable science lesson plans, PowerPoint presentations, hands-on investigations and science reading comprehensions written by primary school teachers.
Whizz Pop Bang teaching resources link to the National Curriculum, ensuring correct coverage.
All of our resources are year group specific, ensuring progression between the years.
We make cross-curricular links to other subjects, such as English, Maths, History, Geography, Art, Design and Technology and PSHE.
Prices from as little as £197.99 per year for a copy of Whizz Pop Bang magazine through the post each month and whole-school access to our ever-growing library of downloadable teaching resources, with unlimited teacher logins.
We've also launched a new individual teacher resources membership option so teachers and home educators can access all of our amazing downloadable resources for just £20 for the whole year.