Tim Peake spent 186 days on the International Space Station between 15 December 2015 and 18 June 2016 and has shared some of his amazing experiences with Whizz Pop Bang magazine. He's also just published his first children's book, along with bestselling author Steve Cole, based on space-age science and technology: Swarm Rising. Find out how you could win a copy here!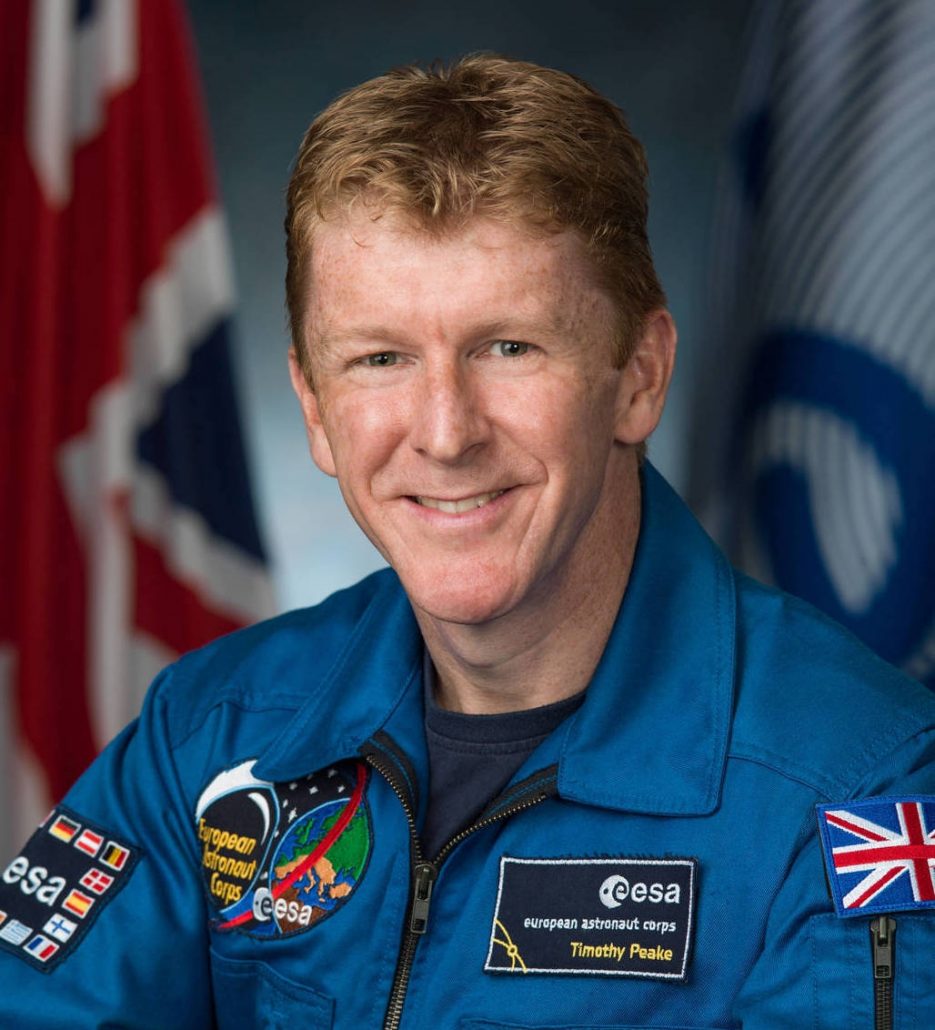 How did you feel when you were preparing to go into space?
"I had so many feelings! On the one hand, there was a huge amount of excitement and adrenaline. The trip was a culmination of years of work and effort, so I was really looking forward to it. I was a little bit apprehensive as well – obviously there's a rocket launch to go through, and then all eyes are on you. The eyes of the agency, the eyes of your crew mates, the eyes of the nation watching! There are times when you just have to step up to the plate and perform.
Catching a visiting cargo vehicle is a one-person job: it is your responsibility to connect an entire space station to an entire cargo vehicle, and nobody else can help with that. These tasks are very, very high-pressure!
I felt that pressure – as sports people do when they have to perform – when I went out on the space walk. So I was definitely apprehensive, but the majority of my feelings were excitement and adrenaline. Being up there on the space station is such a privilege and everyone supports you to try and be the best that you can be."
What's it like looking at Earth from space?
"I just loved looking down at Kamchatka on the east coast of Russia, for example, and seeing a volcano smoking away. I'd think, 'Nobody but me knows that volcano is erupting,' because there literally are no humans within 2000 square miles of that location. It's just wonderful that you can visualise the entire planet having been around it about 3000 times.
There's nowhere on Earth that I don't know now. Although clearly, I haven't visited every country, I've got a different perspective of the planet.
It's very serene in space. It's a beautiful environment to be in; weightlessness, to be floating, to be looking down, just gracefully passing over the Earth without any noise, no vibration. It's a beautiful, beautiful feeling."
Did you look out for aliens!?
"Absolutely! The funny thing about looking out away from Earth is that in the daytime, you just see the blackness of space. It's a very strange black – the blackest black you'll ever see. Here on Earth we never really see black like this, because there's always ambient light around.
In space – wow! You feel like you're falling into the void when you look out at the blackness of space. And of course, there are no stars because the Sun is so bright that it blinds out the light of the other stars. You can only see this black abyss.
At night, when we are in the Earth's shadow, all the stars come out. It's beautiful to look the other direction: you can see 100 billion stars making up the Milky Way with no light pollution. The interesting thing is, you can't see other satellites which you can see clearly from Earth – I look up at the night sky here, and I'm always seeing satellites going overhead. But in space, because we're travelling so fast, it's very, very hard to see another satellite that's also travelling very fast with the naked eye. So we don't see lights coming towards us in space."
What's bedtime like in space?
"Sleeping in weightlessness is lovely once you get used to it. It's a bit tough to begin with, because your body doesn't know to go to sleep. Here on Earth, every day of our lives we lie down at bedtime, rest our heads on pillows, and these actions are such strong triggers to make us fall asleep. When you don't have those triggers, you float around all day, you float into your crew quarter, you zip up a sleeping bag, you can switch off the lights, you can put in some earplugs in but your body says, 'What now?' Once you get used to it and your body can fall asleep, wow, it's a lovely sleep. There are no pressure points, no tossing and turning, no restlessness and you wake up completely relaxed.
We only need six hours' sleep maximum on the space station because the quality of sleep is so good.
I used to like to strap my sleeping bag loosely using tie wraps, just enough to allow me to float around a little bit – not so much that I'd bang my head on the roof, but enough to enjoy that floating experience."
How do you eat on the ISS?
"You get very unpopular with your crew mates if you open a packet of crisps or something like that!
Crumbs go everywhere, even in people's eyes, all week long – so we try and avoid that.
I had bags of pistachio nuts, already shelled, but they were a treat that were sent up in care packages every now and again. You just had to be careful about how you eat that kind of thing. But yes, you don't really want to have crumbs in the space station!"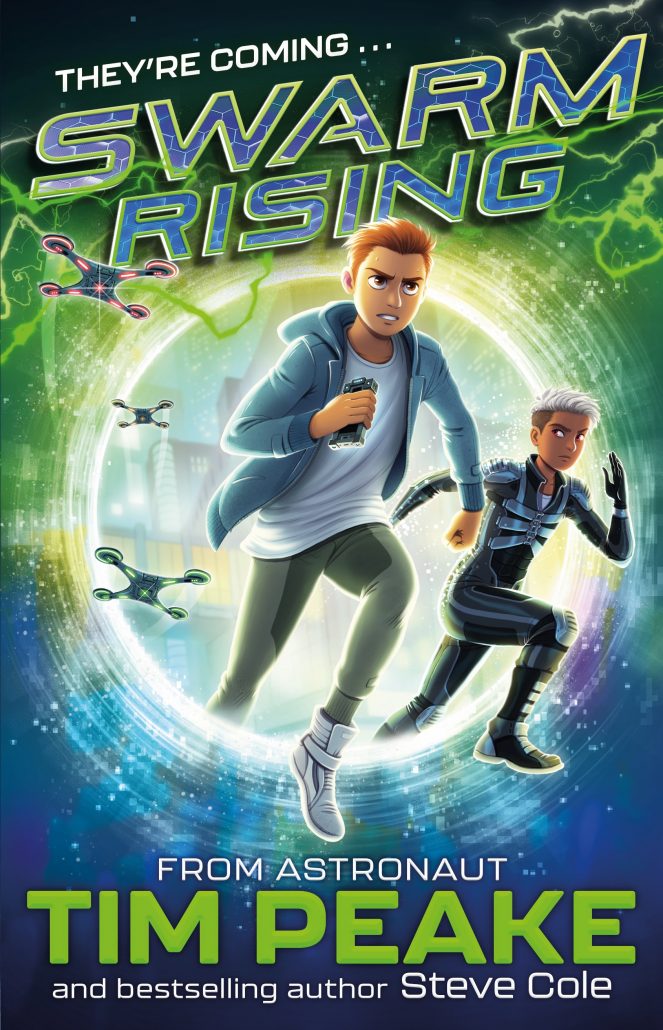 For fans of Alex Rider, Young Bond and Cherub, this exciting action-adventure is the first children's book from astronaut Tim Peake and bestselling author Steve Cole, and is based on space-age science and technology.

When Danny is kidnapped by Adi – who can run through brick walls and make cars drive on water – he realises that all humans are in danger. Adi is part of a super-advanced hive mind, the Swarm, which intends to protect the Earth from the environmental catastrophe caused by the human race.
Adi – Alien Digital Intelligence in the form of a girl – can bend the laws of physics and control digital data, but as a digital being she wants to know what it's like to be human. Which is where Danny comes in.
But what exactly is the 'help' the secretive Swarm is offering? Can Danny and his friend Jamila help Adi stop the Swarm Agents and give humanity a second chance?
Swarm Rising by Tim Peake & Steve Cole is available now.
If you want to find out more about Space, check out these issues in our shop!
Whizz Pop Bang 67: Mission to Mars
Whizz Pop Bang 62: Over the Moon
Whizz Pop Bang 48: Hello Sunshine
Whizz Pop Bang 39 Space Travel
Whizz Pop Bang 28: Planetary Adventures
Whizz Pop Bang 7: The Science of Attraction
Whizz Pop Bang 1: Zoom to the Moon