😭 It's the final day of WHIZZ POP BANG'S 12 DAYS OF CHRISTMAS PRIZES and today's prize is a big one!

One very lucky winner will pick up an ULTIMATE SCIENCE BUNDLE – what an amazing Christmas present that would be! This bumper collection of science goodies is worth £64.95 (but you can pick one up for £49.99 in our shop!)
It contains…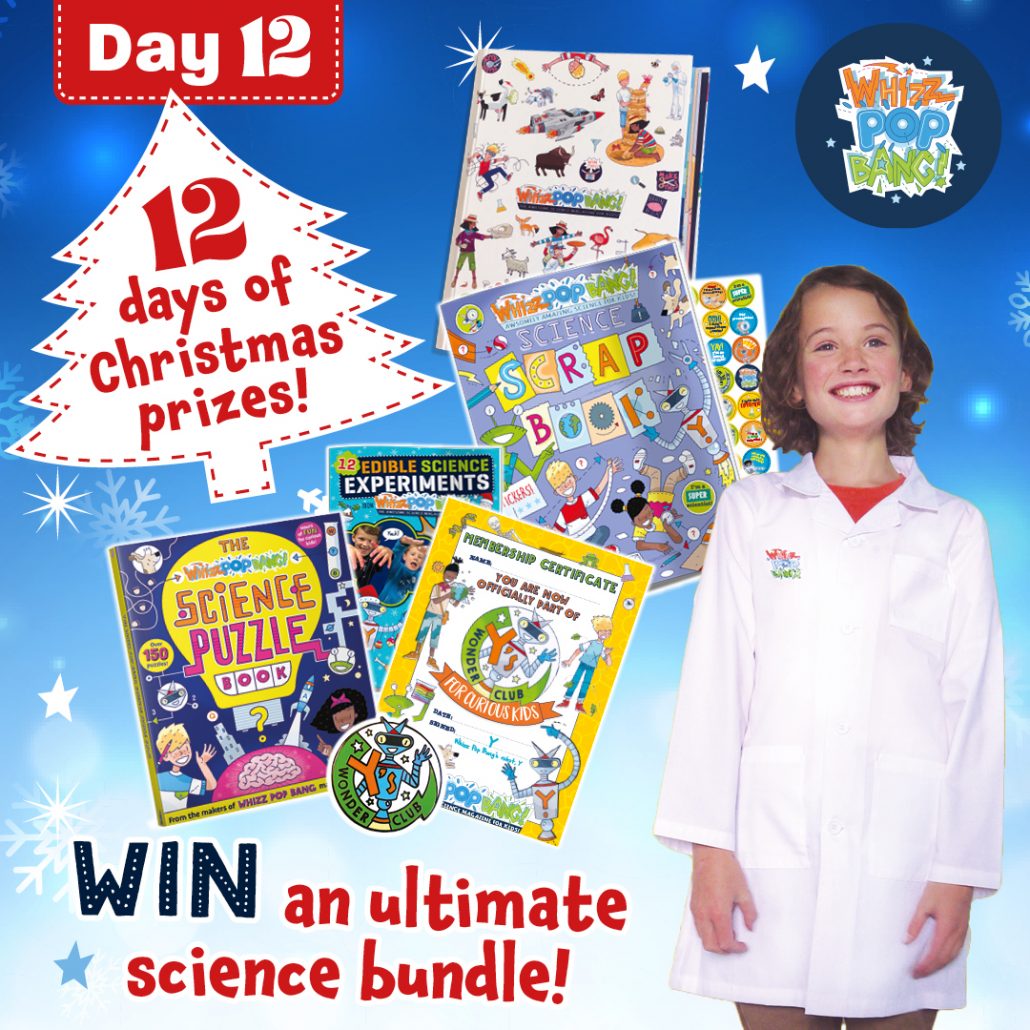 🎄 Whizz Pop Bang Binder – ideal for storing a whole year's worth of magazines
🎄 Whizz Pop Bang Puzzle book – stuffed with over 150 brain-bending puzzles
🎄 Whizz Pop Bang Lab coat – keep your clothes in tip-top condition when you're experimenting! Available to fit age 5 – 13
🎄 Whizz Pop Bang Scrapbook with stickers – ideal for recording hopeful hypotheses, future inventions and experiment results
🎄 Y's Wonder Club enamel pin badge – The club that encourages readers to get stuck into experimenting and to share their adventures in science!
🎄 Y's Wonder Club Certificate – A5 certificate to show you're part of the club
🎄 Edible experiment booklet – 12 edible experiments to try out over the festive season!

To be in with a chance of winning this perfect prize, just answer this question in the comments:
What is the reaction between vinegar and bicarbonate of soda called?
A An alkali-base reaction
B An acid-base reaction
C Combustion
Good luck to everyone and THANK YOU for playing along for the past 12 days!
This competition closes at 7am on Sunday 13th December 2020. Whizz Pop Bang competition terms and conditions are here.
---
Whizz Pop Bang is a top-quality, gender-neutral, advert-free science magazine for families everywhere. Each issue is packed with experiments, activities, amazing facts, puzzles, jokes, riddles and more. Find out more here!