We want to inspire the future generation of scientists with our monthly magazine! That's why, every month we interview inspirational scientists about their jobs so children across the globe can learn about fascinating areas of science and what it takes to do these jobs.
We interviewed astronaut Tim Peake and wanted to share it here for free so that everyone can be inspired by Tim's story. This pack also includes a reading comprehension question and answer sheet for schools and home educators to teach kids.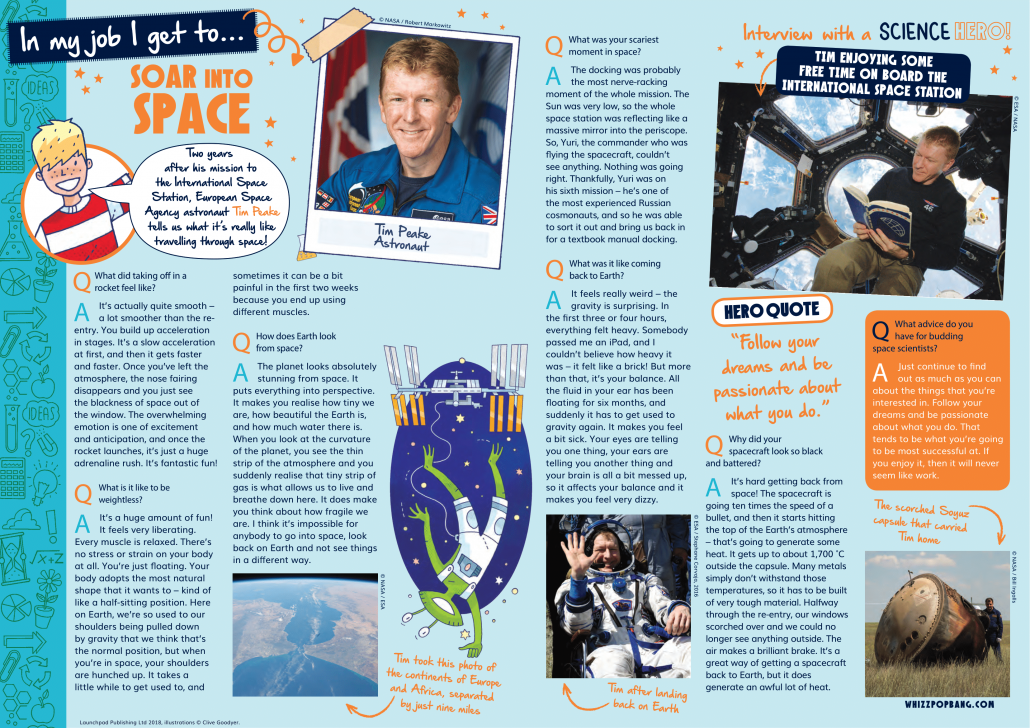 Interview with astronaut Tim Peake reading comprehension
This interview delves into what it is really like to travel in space. Tim Peake describes what it feels like to take off in a rocket and to feel weightless, as well as his scariest moments. A must-read for your aspiring astronauts.
This downloadable reading pack includes:
– An interview with Tim Peake for you to print or for your child to read on a tablet.
– Reading comprehension question sheet and answer sheet.
Our teaching resources are designed for children from 6 to 12, but this reading comprehension is particularly perfect for year 5, P6 (Scotland) and 9-year-olds and 10-year-olds as it ties in with the National Curriculum topic about earth and space they will be taught this during this school year.
Did your mini-scientist enjoy learning about Tim Peake? Why not discover our other space themed issues of Whizz Pop Bang in our shop here! Or click on one of the magazines below for some of our favourite space issues!
Fill your child with science wonder with a subscription to Whizz Pop Bang, the award-winning magazine for 6 to 12-year-olds. Watch their face light up with glee when their very own magazine zooms through the letterbox! Packed full of hands-on science awesomeness, it's the gift that keeps of delighting, month after month.